When it comes to winter wear, knitted clothes are essential. It has soft texture and comfortable ventilation, which is loved by many girls. Knitwear has a variety of styles, suitable for women of all ages, not only that, but its warmth retention cannot be ignored. In winter, a base knitted
Sweater
and windproof jacket can basically solve the clothing problem. However, the designs of knitted garments are also diverse, the more common ones are striped knitted garments, color-blocked knitted garments, and plush knitted garments . Having said so many benefits of knitting, let's take a look at the combination of knitting.
The following knitted sweater is the most common match with jeans. It looks simple and clean, and it is very age-reducing. To stand out in the crowd, of course it must be different. This sweater is a very eye-catching orange, which can be noticed by others at a glance. With a pair of light-colored jeans, it can make people look youthful and suitable for girls with white skin.
Knitwear is very popular among young girls because it looks very good in texture. The most important thing is that it can also highlight the beautiful body lines of girls. There are many styles of this kind of knitted clothing, such as oversize style, workplace commuting style, tight sexy style and so on. Different styles of clothes can also highlight different temperaments of people.
The retro knitted striped jacket in the picture below is an oversize style. Although its texture is very thick, it does not look bloated at all. Whether it is matched with a short skirt or tights, the lower body will look very temperament, with a retro style. The striped pattern is also very individual.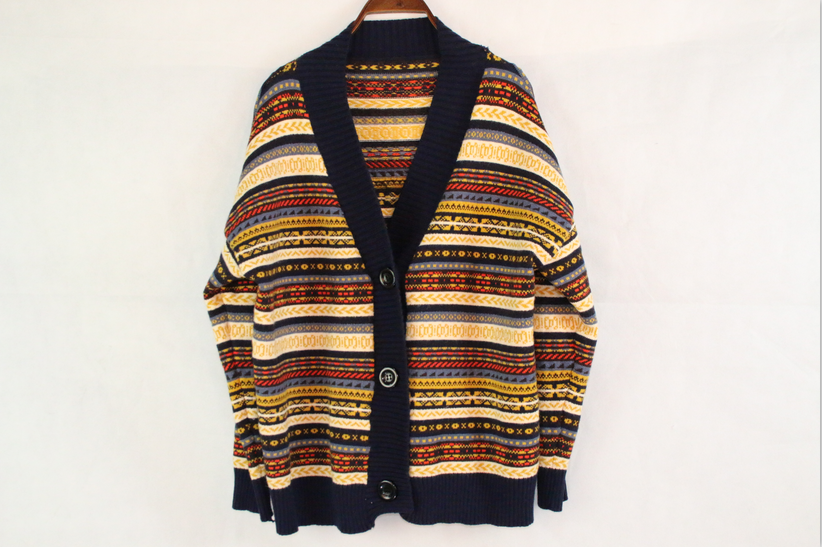 The above is about the matching of some knitted garments. Our company specializes in producing and customizing all kinds of knitted garments. We support OEM services. We can mass produce customized high-quality knitted garments, including sweaters,
Custom Knit Sweaters
,
Knitted Pants
,
Knitted Skirt
,
Knitted Shoes
,
Knitted Scarves
and
Knitting Blanket
. If you need to order knitted products, please contact us.
DongGuan YaCheng Knitting Co., Ltd
Business Type:Manufacturer
Product Range:Christmas Decoration Supplies , Men's T-Shirts , Women's Sweaters
Products/Service:Custom Sweater , Custom Knit Sweaters , Knitted Skirt , Knitted Pants , Knitting Home , Knitting Blanket
Certificate:
Company Address:No. 288, Dalang Section, Guanzhang Road, Dalang Town, Dongguan, Guangdong, China


Previous: The Difference Between Knitted Cotton and Pure Cotton